Turkey Meatloaf W/Spinach & Feta Cheese. Stir in the bread crumbs, spinach and reserved onion. Crumble turkey over mixture and mix well. Form a deep indentation down middle of turkey; fill indentation with reserved spinach mixture.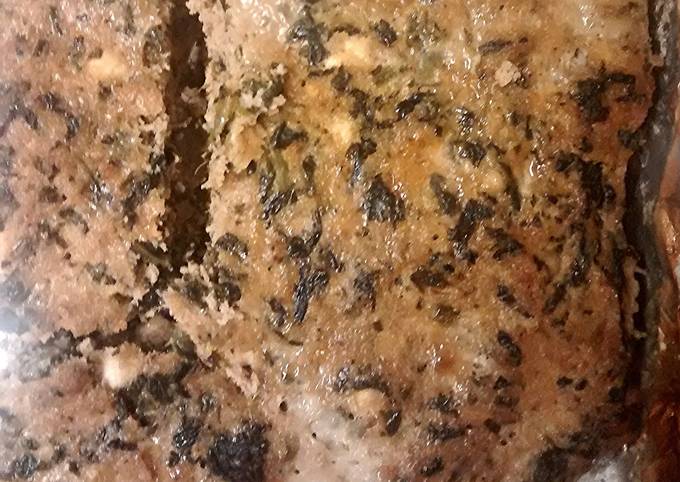 Line a small baking sheet with several thicknesses of paper towel, and spread spinach mixture on towel and refrigerate to cool. Combine all of the ingredients (except the ketchup!) in a large bowl, and mix using hands. Mix everything together until well combined. You can have Turkey Meatloaf W/Spinach & Feta Cheese using 0 ingredients and 0 steps. Here is how you cook that.
Ingredients of Turkey Meatloaf W/Spinach & Feta Cheese
Saute mushrooms and onion in butter; season with salt & pepper. Gently fold turkey with all ingredients until well blended. Turkey meatloaf is a favorite in our house! This healthy meatloaf recipe made with lean ground turkey is easy and delicious.
Turkey Meatloaf W/Spinach & Feta Cheese instructions
Mix ground turkey, crushed crackers, milk, onion, egg, garlic, salt, and black pepper in a bowl. Combine the ground turkey, bread crumbs, eggs, and onion mixture in a large bowl. Mix well and shape into a rectangular loaf on an ungreased sheet pan. Spread the ketchup evenly on top. Remove from pan and chop spinach mixture up into small pieces and add it to a large bowl with the turkey, egg, bread crumbs, ketchup, Worcestershire sauce, thyme, salt, and pepper.