Potato and leek soup – vegan. Feel free to peel the potatoes or leave the skin on (I left the skin on). Saute: In a large dutch oven or pot, heat the oil/water over medium heat. Adjust the heat as necessary so as not to brown the leeks.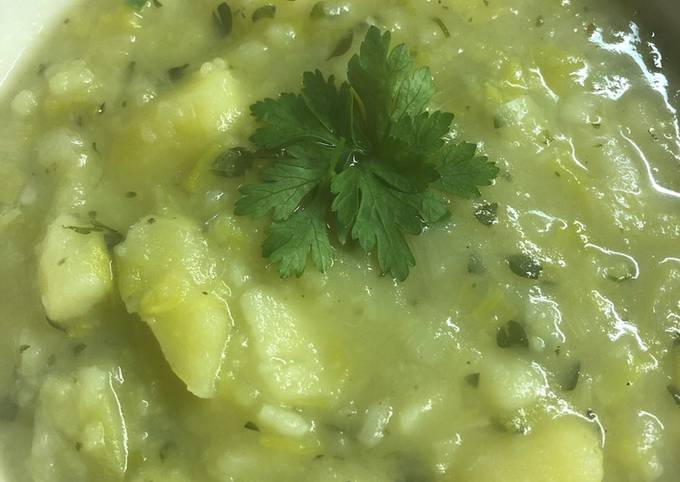 Add chopped potatoes, bay leaves and vegetable stock and bring to a boil. Reduce heat, cover and simmer until the potatoes are soft and cooked. Remove from the heat and remove the bay leaves. You can cook Potato and leek soup – vegan using 0 ingredients and 0 steps. Here is how you achieve it.
Ingredients of Potato and leek soup – vegan
Slice the leeks and fry gently in a large saucepan until soft. Set about a third of the leeks aside in a small bowl. Clean and cut the potatoes into cubes, (no need to peel). Use a hand blender or food processor to blitz the soup to a smooth puree.
Potato and leek soup – vegan instructions
Next add the spices and garlic, and continue to cook and stir for one minute or so. Drain leeks and add to a large soup pot. Add just enough water or veg broth to prevent sticking, and saute the leeks until they are very soft. Drain potatoes and chop approximately ¼ of them into bite-sized pieces. In a large saucepan, heat oil over medium-high heat.