Corned Beef and Potato Chowder. Add the potatoes, chicken broth, salt, pepper, celery salt and garlic powder to the pot. Add the potatoes, seasonings and chicken broth and stir. With an immersion blender, puree the soup until smooth, or until desired consistency.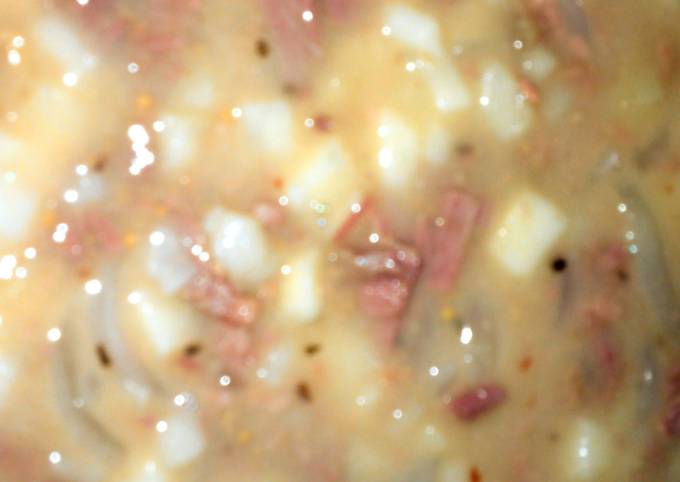 Remove the bay leaf, season with kosher salt and black pepper to taste. Serve with snipped chives and rye croutons if desired. Notes Place corned beef in a large stock pot and cover with water. You can have Corned Beef and Potato Chowder using 0 ingredients and 0 steps. Here is how you cook that.
Ingredients of Corned Beef and Potato Chowder
Add the seasoning included in the package. (No, I don't rinse mine.) Bring to a boil, then reduce to a simmer. Simmer uncovered, adding water as necessary until brisket is fork tender, or cooked to the desired doneness. Toss in veggies and add enough water to cover. Sprinkle on the flour and mix into the veggies.
Corned Beef and Potato Chowder instructions
Dump in the broth and potatoes. Melt the butter in a large pot over medium high. Slowly stir in beef broth and milk, bay leaves and thyme. Bring to a simmer and cook until it begins to thicken. In a large heavy-bottomed saucepan, cook the bacon and onion over medium heat, until the bacon is browned and the onion is tender.